-->
Video Production Services in Kosovo
Entermedia is a video production company in Kosovo that offers a range of services including:
Music video services are one of the strongest competencies of Entermedia. Our portfolio contains projects starting from 2004, that are award-winning and count up to 1 billion views globally. We have streamed our videos of numerous national and international artists on some of the best-known music and video platforms. Learn more about our music videos at: https://entermedia.tv/music-video-production-services/
TVAds/Commercials are the second most popular video service of Entermedia. We have produced award-winning TVads and business video productions for national and international companies. "Kosovo – the Young Europeans" campaign produced by us has been broadcasted on CNN and BBC and has received a great response from the audience. Learn more about this video service at: https://entermedia.tv/tvads-commercial-video-services/
Public Service Announcements (PSAs) is a video service we believe have the power and potential to make significant positive changes in our society. We take pride in our work with international organizations such as USAID, UNICEF, OSCE Mission in Kosovo, British Council, and local organizations such as Action for Mothers and Children, and Youth Initiative for Human Rights. Find more information at: www.entermedia.tv/work
Producing documentaries is another video service that we take great pride in. We have produced numerous documentaries of different lengths such as social issues and topics, technology, environment, etc. We have successfully produced high-quality documentaries that received great positive feedback for international organizations (USAID, Helvetas, UNDB, GIZ)) and international companies in New York, Zurich, and Dubai.
Along with the above video services, our team also produces digital content video production for digital networks. Partnering with networks such as Bzzz (hyperlink here) we have produced content that counts up to 2 billion views for numerous channels.
Entermedia's Production Process

The pre-production phase
The pre-production phase of video production is the first stage, during which an idea for your message and the plan to create it are developed. The creative aspects, including content like scripts or storyboarding, are key in getting a clear vision off on paper so that when shooting begins everything will come together smoothly.

Video Production Budget
Determining the budget for video production services is the first step in any video production. When it comes to creating video content, it's important to have a clear idea of what you can afford and what will be outsourced. We'll determine your overall cost for a video project based on three factors: labor/ skill level, equipment, and post-production work -editing.

Style and Format
The style and format of your video should be consistent with the brand image, target audience, message, and budget.

Location Scouting
The location where shooting occurs should also factor into planning decisions. Each video that gets shot has to have its own individual purpose. Our team takes the time to fully understand who the client is and learn what they want to use the video for.

Production
Video Production is the phase where you capture all the interviews, scenes and other footage for your production services. This is the part when you begin shaping your story into a finished product.

Post-production
After the production phase is complete, the producer and editor work together to prepare the video for distribution. During the post-production phase, the video production team will begin organizing, planning and editing the actual video.
How long does it take to produce a video service?
Once the concept is solidified and locations for shooting have been determined, the actual shooting will take place in two long days. Usually the weekend is the best time for everyone. After the shooting is complete, the editing takes place. This process usually takes up to two weeks. However, it can take anywhere from two to four weeks depending on the complexity of the project. Our team of creative directors, producers, and organizers can help you develop your project into a professional video production service. Our team of editors and animators will ensure that your project is delivered on-time and our directors/organizers will make sure that you have access to the perfect filming locations so your project can be shot professionally and with top footage. The goal of our video production services is for people to feel entertained, informed, or both.
See services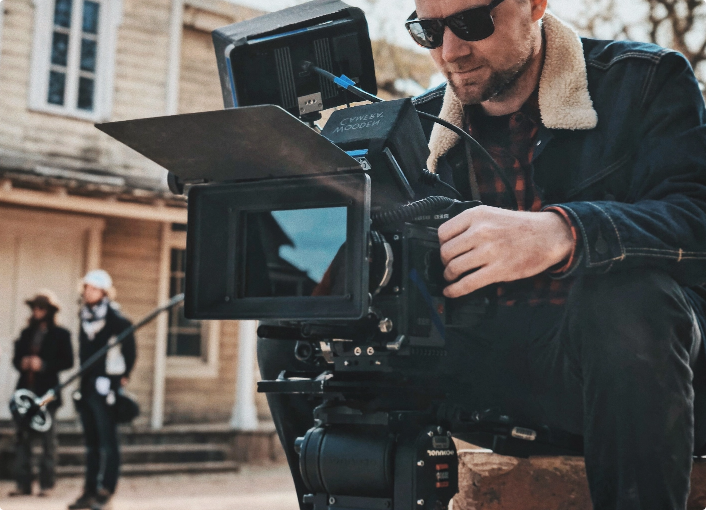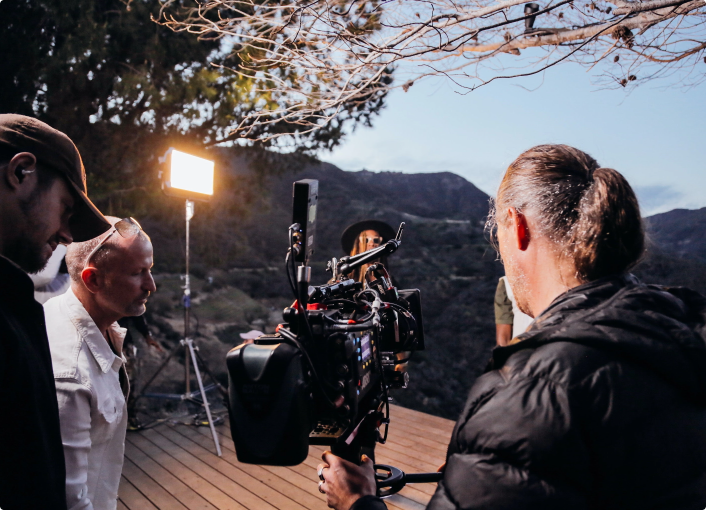 Our Work
Entermedia is a video production company in Kosovo that creates ideas and experiences so the clients can reach their audiences, communicate messages, and promote cutting-edge products - all this while enjoying the ride! Here at our video production company, we are a team of professionals, who have been working in the industry for many years and delivering qualitative video content. We take pride in our ability to create high-quality videos that are both creative and engaging. Our team has the experience you need for any project, be it video content, music videos, TV/Ad commercial videos, TV PSA, documentaries, or digital content. Our video production company is passionate about the work we do and believes in creating top-quality content for you. We are committed to crafting quality videos that will stand the test of time. We want your video content not only to be memorable but also sustainable and long-lasting for both you as well as our audience! Let us help you stand out from the crowd by creating high-quality content video production tailored specifically for your needs and budget. Check our video services work here
FREQUENTLY ASKED QUESTIONS
1. What value will Entermedia bring to my project?

Entermedia has over 20 years of experience in the field. We have produced many successful projects, working with a variety of clients and partners to create high quality video production services whether it's a music video production or a tv commercial video production. Our team consists of experienced professionals who are ready to help you reach your goals. With Entermedia as a partner, you can be sure that your project will be in expert hands and will hold up to your high standards. We are a company with a highly skilled team of video production professionals who have worked on more than 500+ projects over the years.
2. How long does it take to produce a video?

Once the concept is solidified and locations for shooting have been determined, the actual shooting will take place in two long days. Usually a weekend is the best time for everyone. After shooting is complete, editing takes place. That process is on average two weeks; however, it can take anywhere from two to four weeks depending on the complexity of the project.
3. What is included in your video production services?

Entermedia is a creative agency that offers the full range of services in video production in Kosovo, starting from the concept to the final product.